Another ad from the files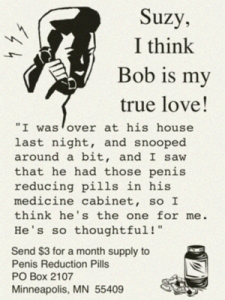 Here's another ad that I pulled out of the microfiche. Â This one would have run in the woman's magazines of the day, like Women's Day,in the late 1950s.
Granddad made most of these ads himself, since he'd spent years in the advertising industry in Minneapolis before founding PRP. Â Â Certainly they show the social thoughts and mores of the time. Â For example, these days "snooping" would make the protagonist in this ad seem, well, not the best girlfriend material. Â But, back in the 1950s nobody would have thought it reflected badly on a potential girlfriend.
There was some correspondence in the folder with this ad, showing the different places granddad sought to run it. Â In addition to the woman's magazines, he occasionally ran this ad in the news magazines of the time like Newsweek.
And, back in the day it would have cost granddad $380 ( almost $3000 in 2008 dollars ) to run this in the back third of Woman's Day, so it was a number of years before the company had grown large enough to have a revenue base to support that.