Please describe the boxes you use to send the pills in
We use only the finest corrugated two-ply cardboard boxes, manufactured here in America. Â Economies of scale don't allow us to do our own research into appropriate cardboard box design and construction, but our staff and quality control auditors do inspect every shipment which comes in to insure that you receive the highest quality cardboard box available on the market today.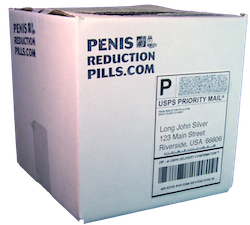 The boxes are printed with our logo, "Penis Reduction Pills.com", on all six sides in at least 36pt lettering, and larger sizes on the larger boxes.  The ink used is lead and VOC free, yet has among the most durable and resilient blacks on the market today.  If you order one of our boxes, and your neighbors or roommates can't read what it says even after it's sat on a rainy porch for a week, we'll gladly refund none of your money.
The boxes also contain a label with your address, and ours, because when we tried sending boxes without addresses it didn't work out so well. Â There's also this cool USPS "bar code" which kind of looks like a tv turned to a channel which is just static.