Penis Reduction Pills (90 day supply)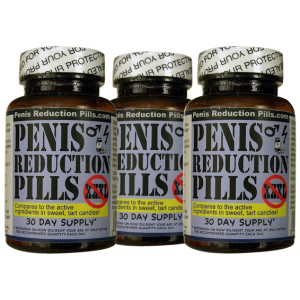 Our flagship product!  Three bottles, each containing around a 30 day supply of our un-patented penis reduction placebos, with a bright label giving the correct dosages, warnings, and other necessary information. You can save them all for yourself, or give them out to your friends once they see how much it's helped you.
Our company name and "Penis Reduction Pills" appear prominently and should be easily visible to most folks.
We ship this to you in our deluxe 8″ x 8″ x 8″ box, which has our logo displayed on all six exterior surfaces in at least 36 pt type.